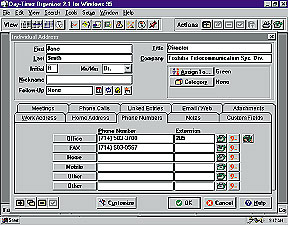 Customize Powerful CTI Solutions
StrataLink Adds Call Control Flexibility - What's more, we've enhanced the basic TAPI interface with StrataLink software, enabling you to customize the call-control functions of your PC application with many value-added capabilities.

Choose how your PC application responds to each call event - With StrataLink, you can determine call-handling rules and conditions, enabling you to customize how your application works.

Handle Multiple Calls - StrataLink processes multiple call events that capture Caller ID and generate screen displays, even generating screen displays on transferred calls and when reconnecting to calls on-hold.

Handle multiple PC applications from the same telephone - StrataLink activates specific responses in different applications, based on each call type.

Perform outbound calling and call control from your PC application.

Easy setup, testing, and monitoring - StrataLink's advanced tools simplify interface testing, debugging, call-event monitoring, and setup of applications. Just select from pre-defined tested applications-the proper interface is automatically assigned.
Toshiba Ultimate Communicator Applications
The Toshiba Ultimate Communicator is a PC phone desktop software product. Providing such features as answering machine functions, basic attendant console operation, and screen pops with contact manager software, the Toshiba Ultimate Communicator is used in conjunction with a Toshiba desktop digital telephone to provide additional functionality and value.

Packaged Applications
The Toshiba Ultimate Communicator contains several pre-packaged applications that can be selected and activated as part of the standard product.
Stratagy Voice Mail - Stratagy menu soft keys provide screen click buttons for visual operation of voice mail functions.

Single Button Call Record - provides manual voice recording of the active call at your specific telephone as a .WAV file on the PC. Each recording will be automatically erased at the end of the day unless it is specifically saved.

Automatic Voice Logging - automatically records each call at your specific telephone as a .WAV file on the PC as a call logging function. Each recording will be automatically erased at the end of the day unless it is specifically saved.

Station Restriction Control - makes manual changes of Toll Restriction Class of selected telephones easy. You can restrict outgoing access during off hours and provide greater access during regular business hours.Auto Night Transfer Control - automatically places the Strata DK system into Day, Day2, or Night mode at pre-designated times and days of the week.

Automatic Call Park and Page - automatically takes an unanswered outside call, plays an announcement, places the call on hold, and then announces the call via paging. If the call is not picked up after a designated amount of time, the call is transferred to voice mail.

Auto Dial - dials a telephone number from a speed dial list maintained in the Communicator. Up to 6000 numbers are available for auto dial by all stations. The auto dial number codes are user definable to correspond to office number, store number, customer number, etc.

Traffic Performance Monitoring - uses the Personal Call Accounting option to collect call information to/from the individual telephone (not system wide call accounting). Critical lines and stations can be monitored and reports generated for the performance and usage of those facilities.
Custom Applications
Custom applications can also be developed by Ultimate Software Products, Inc., Toshiba's software development partner. This includes customer-specified application development, and support for developers who create their own applications.

CTI Solutions That Grow With Your Needs
Today's advanced PC technology makes CTI affordable for every business, large or small. Best of all, you can start by adding CTI to the desktops of key personnel only, then cost-effectively expand CTI throughout your company as needed.
Together, your Strata DK telephone system and CTI offer proven solutions that can dramatically improve your inbound/outbound sales, customer service, technical support, and other mission-critical call operations- and reduce your costs.