STRATA DK14 Digital Telephone System (Toshiba)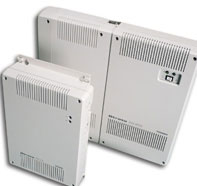 For small businesses, the Strata DK14 & DK40i digital business telephone systems offer a solution that fits your needs. The revolutionary "building block" design of Strata DK systems lets you start small and add on as your business grows. Strata DK systems incorporate the latest technological advances into the friendliest user interface possible, improving your company's communications, efficiency, and productivity for years to come.
Keep Your Return On Investment Growing
With the Strata DK14 and DK40i you've got a solid plan for controlling operational costs and increasing productivity.
Modular Growth
The Strata DK "building block" modular approach to growth and expansion is a cost-saving breakthrough, enabling businesses to upgrade performance and capacity without significant capital outlays.

Migration and Compatibility
Our complete migration philosophy allows you to reuse telephones from smaller Strata DK14 and DK40i systems throughout the entire Strata DK product line, including the largest Strata DK424.

Cost Saving Features
Strata DK systems offer a variety of features to help you control costs and better manage your operation. For example, it makes client billing easier, can restrict long-distance toll access, helps route calls over your least costly CO line or long distance carrier line, connects to high speed digital services including ISDN, and can even eliminate technician reprogramming when you move a telephone from one location to another.

Complex Features Made Simple
Sophisticated features don't help if they're too complicated or intimidating for people to use. That's why we designed Strata DK systems with the actual user in mind.

Add Options When You Need Them
The Strata DK14 and DK40i let you add optional features individually at any time, so you get the exact level of performance your business requires - no more and no less.

Backed By Toshiba
For over 100 years businesses have depended on Toshiba, a worldwide leader in business telecommunication systems. Like all Toshiba products, the design of the Strata DK14 and DK40i reflects our continued commitment to quality, reliability, and value.
Toshiba digital telephones are available in two colors, and a variety of 10 - and 20 - button hands-free or LCD speakerphone configurations. A 900 MHz cordless digital telephone with LCD display and message waiting indication, and a PC digital telephone that brings telephone capabilities to your personal computer are also available. For specialized answering, we offer an add-on module, DSS console, and a door phone.

The Strata DK14 provides capacity for up to 4 CO lines, 8 digital telephones, and 2 analog station ports for faxes, voice mail, etc. The Strata DK40i provides capacity for up to 12 CO lines and 28 telephones including many combinations of digital and analog stations. Configuration flexibility allows a variety of combinations of CO lines, telephones, and peripheral devices to be connected to your system.