STRATA CTX670 Digital Business Telephone System (Toshiba)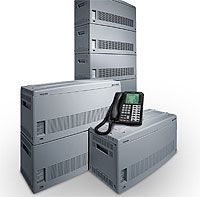 Flexible Solutions For Complete
Telephone System Integration
Effective communication is more critical than ever to maintaining your competitive edge, whether your business is large or small. To meet that goal, you need a solution that unifies, coordinates, and streamlines all your communications. And you need a telephone system that cost-effectively lets you access, use, and share vital information with ease and efficiency - in your main office, between branch offices, and remotely.
The Strata CTX670 digital business telephone system is the comprehensive solution for your full range of telecommunication needs:
Multiple System Networking

Remote User Access

Voice Over Internet Protocol

ACD/MIS Call Center Functions

Computer Telephony Integration

Voice Mail/Auto Attendant
Strata CTX670 Grows With Your Needs
You can enhance your Strata CTX670 system with optional features as needed. That means Strata CTX670 provides the exact level of performance your business requires both today and in the future.
You can upgrade system features and capacity as needed. Flexible "building
block" design allows upgrading and growth at minimal expense.

The system features universal slot architecture that allows you to create
almost any combination of trunk lines, telephones, and peripherals.

Plus, the system's modular architecture and scalable design gives you the
flexibility to start with a small configuration and expand up to 560 telephones.

You can even grow beyond 560 telephones by networking multiple
systems together.
Maximize the return on your equipment investment by reusing digital telephones and trunk and station cards from smaller and/or older Strata DK systems. Scalability, migration, and compatibility are the hallmark of the Strata CTX670 system.
With its modern architecture and high-speed RISC processor, you can rest assured that your Strata CTX670 system will adapt easily to new technological developments - and to your communication needs as they change.