STRATA DK424i Business Telephone System (Toshiba)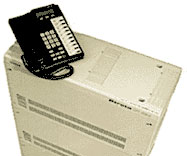 The Strata DK424i system offers comprehensive features that meet your full range of telecommunication needs, whether your business is small or large. Equally important, Strata DK424i enables you to enhance your system with value-packed optional features at any time, delivering the exact level of performance your business needs as it grows.
Whether you require Voice Mail/Auto Attendant, Computer Telephony Integration, ACD/MIS call center functions or Voice Over Internet Protocol, Strata DK424i offers the optimum solution.

Universal slot architecture provides configuration flexibility, allowing you to create almost any combination of trunk lines, telephones and peripherals. The system's scalable "building block" design lets you start small and grow as large as 200 lines or 336 telephones.

Seamlessly Integrate Remote Employees Into Your Main System
A distributed configuration allows you to connect expansion cabinets remotely from the base cabinet with fiber optic cables.

Strata DK424i extends the functionality of your main office telephone system to remote worker groups, assuring maximum communication productivity for all your employees.
A Single Network For Voice, Data And Video Convergence
Strata DK424i's leading-edge technology provides a unified multi-service network for transmitting voice, data and video.

Interoperability reduces your infrastructure expenses and lowers capital and operational costs.
Integrated Services Digital Network (ISDN)
Integrates voice, data, fax and video on one reliable line. Transmit multiple communications at the same time!

With its superior speed and faster call setup, ISDN improves the efficiency, productivity and cost savings of all your business communications.

Primary Rate Interface (PRI) saves money by enabling call-by-call use of channels.
Basic Rate Interface (BRI) provides a low-cost solution for high-speed LAN and Internet access, plus video conferencing.

No additional monthly charge for Calling Number Identification Services (CNIS) and Dialed Number Identification Service (DNIS).
Voice Over Internet Protocol (VoIP)
Enables your multiple offices to cost-effectively share applications and provide consistently high customer service.

Voice and fax calls between your main office and branch office are carried via the Internet or your private intranet, eliminating long-distance toll charges between these locations. Significantly reduces cost, especially for international calls.
Computer Telephony Integration (CTI)
Synchronizes telephone calls with computer applications and screen displays.

CTI applications like caller identification, automated dialing and automated call routing enable your employees to handle calls with maximum efficiency.

Dramatically improves call center effectiveness.

Creates an integrated business information system that increases productivity and reduces costs.
Strategic Advantages For Your Call Center
The Strata DK424i system is specially designed to provide the many benefits of Automatic Call Distribution (ACD), allowing you to distribute inbound calls among groups of call-handling agents. By managing your call center with Strata DK424i's advanced tools, you'll enable your employees to focus on their core responsibilities: maximizing productivity and improving customer-service quality.
Here's how Strata DK424i's powerful call-center solutions can provide you with a competitive advantage:
Efficient call handling through automated call processing.

Faster response to callers.

Effective handling of call traffic during peak hours.

Complete back-up coverage during heavy call volumes.

Ability to accurately forecast call center staffing and facility needs.

Effective management of the lines serving your call center.

Stimulate sales by communicating pre-recorded information to callers while they're on hold.

Enhance your call-center supervisor's ability to train, assist and evaluate the performance of agents, plus make immediate management decisions.

Easily produce reports containing critical information and statistics on each agent's performance, call center group activity and system status.
Keep Your Return On Investment Growing
Open architecture design for easy adaptation to new technological advancements.

Modular growth "building block" design saves substantial cost by enabling you to upgrade performance and capacity as needed, without significant capital outlays.

Migration and compatibility allows you to reuse telephones from smaller and/or older Strata DK systems.
Comprehensive Features Simplify Communication
Easy-to-use interface created with end-users in mind.

LCD feature prompting makes feature access and use easier by displaying simple, clear instructions on the telephone's LCD screen.

Reduces training time and makes sophisticated features less intimidating.

User-programmable buttons automatically perform feature operation sequences at the touch of a button, saving time on every call. Ideal for frequently used features.
Cost-Saving Solutions Built In
Provides concise information on every incoming and outgoing call, enabling you to make cost-saving management decisions.

Helps make client billing easier.

Ability to restrict long-distance toll access.

Routes calls over your least costly trunk line or long-distance carrier.

Connects seamlessly to high-speed digital services.

No reprogramming when you move a telephone from one location to another.

Program your system and test hardware from remote locations.
Backed By A Proven Telecommunications Leader -Toshiba
Since the success of all your communications depends on the reliability of your system, it's crucial to choose a manufacturer with a proven history of serving the ever-changing telecommunications needs of businesses. Toshiba is that manufacturer.
The Strata DK424i system reflects our commitment to designing and manufacturing telecommunication systems that will help our customers be successful today and for many years to come. That's why for over 100 years, businesses have trusted Toshiba, a worldwide leader in business telecommunication systems.
Like all Toshiba telecommunication products, the Strata DK424i is designed to provide exceptional quality, reliability and value. Toshiba engineering innovations like compact component design, circuitry that minimizes power requirements, and power-surge safeguards make Strata DK424i more reliable than similar-sized systems, assuring top performance day in and day out.
All of which is why Strata DK424i is the smart choice for unifying all your communications, streamlining your operations and saving cost.